A Mom's promise to take care of your Family's Health
WELCOME TO FARM 2 HOME – A ONE_STOP DESTINATION FOR ORGANIC PRODUCTS WITH A MOM's PROMISE
This is Genslin Vinodh, from Farm 2 Home. I am glad you are interested in knowing about my journey which is as beautiful as you! Let's quickly dive into it!
First of all, I would like to say how it all started. I am a health-conscious person who is keen on looking at the ingredient list of whatever food my parents brought me from outside. When I read and found that there are some harmful ingredients added to the food that we consume daily, I was shocked! It was then I decided to cook my own foods as it was also my hobby now turned out to be my passion!!
How excited are you to know about Farm 2 Home
I am as excited as you to share how we evolved as a
home-based business and then to a successful entrepreneur!!
Farm 2 Home was not built in a day!! It took 2 months and 22 failed attempts to derive a perfect recipe for one of our best ever selling product There is quite a lot of effort and trial & error behind each and every product of ours. Every recipe is completely new and derived fresh based on a lot of research work behind.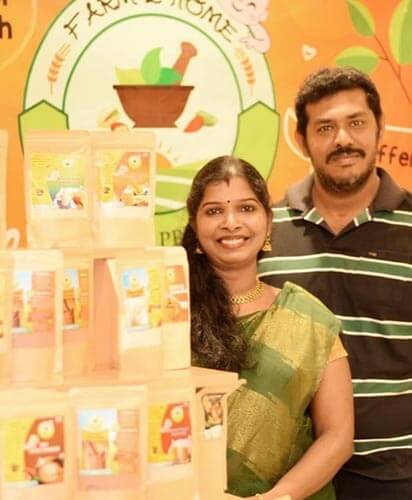 Because I didn't have the idea of starting a company or organic food products store. I am Genslin, the founder and CEO of Farm 2 Home and I wanted to provide unadulterated food for my own kids and family. And, that's how it all started. Earlier when Farm 2 Home rose as a business, I didn't even have an idea of moving it out of the kitchen.
Later, I shared a few of my food products with my family and friends. Soon I found myself navigating new spaces, growing in ways I haven't imagined or foreseen. I received a lot of rewards from my friends, neighbours, and extended family for the delicious spice blends and recipes I came up with. It gave me a hearty satisfaction and joy to see moms feeding their babies and families with healthy foods.

It was my husband who sparked the idea of marketing my products and encouraged me to start Farm 2 Home as a business.
He is "The Man" behind this successful woman entrepreneur who was once a software professional. Although there are plenty of stores selling organic food, what makes "Farm 2 Home " unique is its unsurpassed quality and 200+ variety of homemade tasty and healthy foods we offer. For me, it's not just about growing my business, but my joy lies in finding my customers highly satisfied.
Farm 2 Home – A Mom's Promise
Today, Farm 2 Home – A Mom's Promise is a home-based Organic Food Brand,
serving over 15,000+ delighted customers across India and overseas.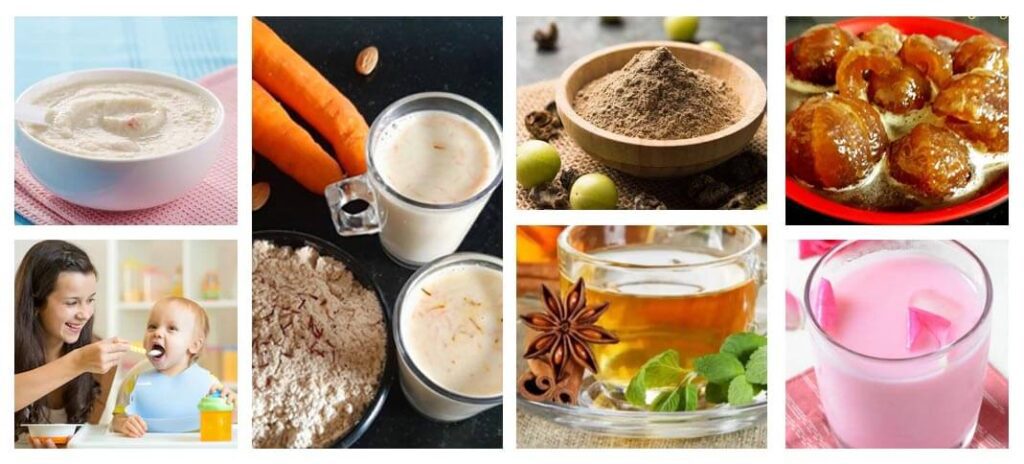 We started with very few homemade baby products and now after 2 years since our inception, we are proud makers of over 200+ organic food varieties out of which every product has been a super hit among our clients. We deal with a wide range of tasty, healthy, hygienic and nutritious organic foods like Baby Porridges, Instant health drinks, Healthy noodles, Millet cookies, millet snacks, natural Sweeteners, honey-based products, organic beverages, immunity boosters, herbal powders and many more – carefully curated, handcrafted in small batches with love and care!!
More than 50 varieties of baby food products!!
OUR BUSINESS IS ALL ABOUT 50+ VARIETIES OF HOMEMADE BABY FOODS, 16+ VARIETIES OF INSTANT HEALTH DRINK MIXES, HEALTHY BREAKFAST OPTIONS, 4 VARIETIES OF HEALTHY NOODLES, MILLET-BASED SNACKS, 6 VARIETIES OF COOKIES, HOMEMADE MIXED FRUIT JAM, NATURAL ROSE MILK SYRUP WITH ORGANIC ROSE PETALS AND BEETROOTS TO BRING UP THE PINK COLOR, HEALTH SUPPLEMENTS FOR DIABETICS, ELDERLY PEOPLE, PREGNANT AND LACTATING MOMS AND MANY MORE!

All are products are purely homemade and free from preservatives, chemicals, additives, Maida, white sugar, refined salt and refined oil.
We love creating new combinations and experimenting with food without compromising on the food legacy.
All our recipes are self-learned from a lot of trial and error methods. We have taken exceptional care to preserve the taste, lock the aroma, and keep the nutritional value of our products intact without adding any kind of food additives and preservatives. One such product is the birth of our "Rose Beet Syrup" that was created when our customer asked for a healthy alternative to the rose milk syrup without added colors, flavors or preservatives.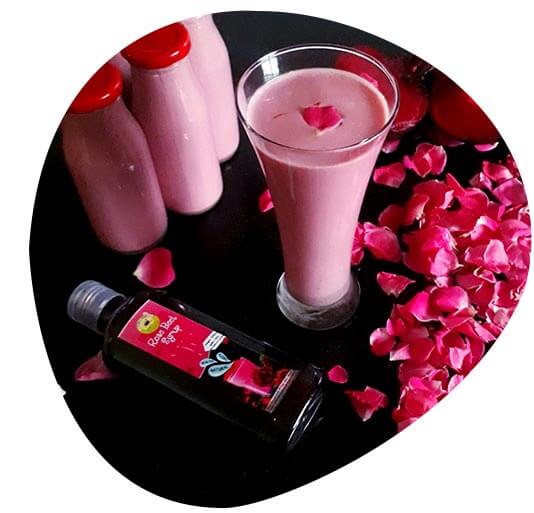 How Rose Beet syrup evolved?
For example, let us explain how we start experimenting with new products. Rose beet syrup is one of our best sellers at Farm 2 Home.
Let me explain how we came up with Rose Beet Syrup using organic paneer rose petals for aroma and Beetroots for bringing up the natural pink color. It took us almost 2 months to finalize the ratio and quantity of ingredients to use. It was the 23rd time that we got the perfect recipe. Once we were confident about the taste and quality, we launched this product and today we have sold over 5000+ bottles of rose beet syrup just within a year!
We're always finding new ways to make our world better by creating new recipes. Our hope is to cater to millions out there struggling with health problems who could benefit from our food varieties. Organic foods and healthy lifestyles are constant and we are trying to impose that on our food products!
The vision of Farm 2 Home
Our vision is to grow into a leading brand in the field of health and nutrition. We want to make our way into every home, cater to tiny tummies and growing toddlers, hungry teenagers, and health-conscious young adults, the elderly, and the sick thus helping shape a better and healthier world for individuals and families one tummy at a time!